All of my music is available as downloads (single or album).
Most albums are also available as CDs.
Or Browse the Samples Below…
Falling & Flying (release 2022)

Falling & Flying Song Track
Falling & Flying 2022 is about falling apart and emerging from darkness back to balance.
Songs: Rebound, Ancestors Calling, Humble & Awake, Falling & Flying,
Pleiades, Holy Now, Thrive, Tough Love, Thirsty Earth, Happy Day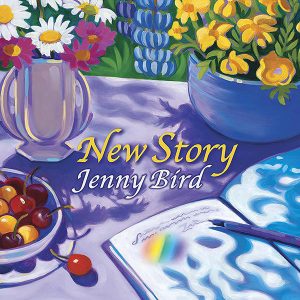 New Story Track
New Story (2019) is all about changing the world that must be made more sustainable for our children's future.
Songs: Conifer, Equinox, Moon, More, Dirt, Windy Day, River Song, Orchestra of Life, Peace, New Story
Cover Art by Tracy Turner Sheppard


Deeper Than Light Track
Deeper than Light (2016) I recorded after the death of my dear friend, Robin Ellis, and the birth of my grandson, Leo. Both life altering events.
Songs: Water, No Words, Breathing, Singing Is Medicine, Deeper Than Light, Jeri And Leo, Birds, Wind, Ancestral Sea, Everything Glows
Cover Art by Tracy Turner Sheppard


Turn Up Your Heart Track
Sage Songs (2015) is also quotes from more contemporary mystics I put to music. (MLK, Gandhi, Thich That Hanh, Reb Nachman, Maya Angelou, Ram Das).
Songs: Turn Up Your Heart, Walking Each Other Home, Love, Serve, Remember, Small Things, Holy, Whole Heart, I'll Meet You There, As It Is, Same Breath, Interspiritual Chant
Cover Art by William Hart McNichols


Migration Track
Migration (2012) is the CD I recorded after the death of my partner of 12 years, Keith Smith. I couldn't do much else besides make this record.
Songs: The Mountain, Brave, Breaking Open, One Little Light, Everything Matters, Stranger Than Fiction, Migration, Circle, Moves Through, Good Day
Cover Art by Tracy Turner Sheppard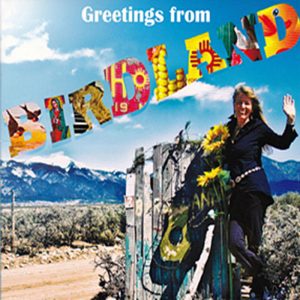 Blue Skies Lullaby Of Birdland Track
Greetings from Birdland (2014) is the jazz CD I promised my Mother, Suzanne Richmond Collins, that I would make, because she loved when I sang these songs, and she is my reason for being. First takes with the brilliant Omar Rane on guitar, John Trentacosta on drums, and Andy Zadrozny on double bass.
Songs: Blue Skies/Lullaby Of Bird Land, Skylark, Bluebird Of Happiness, Moon Is Full, Our Love Is Here To Stay, April In Paris, I've Got My Love To Keep Me Warm, Sound Of Sunlight, Fly Me To The Moon, My Ship/Blue Moon, Happy Trails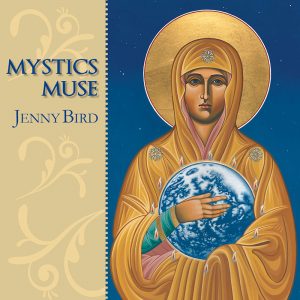 St. John Track
Mystics Muse (2010) is a collection of quotes by various ancient mystics from different traditions that I put to music.( Lao Tzu, Buddha, Rumi, St. Teresa, St. Francis)
Songs: St. John, Rumi, Lao Tzu, Martin Luther King, St. Francis, St. Teresa, Hildegard, St. Clare, Ave Maria, Hineni
Cover Art by William Hart McNichols


Sacred Flame Track
Sacred Flame (2008) was made with Melissa Crabtree, who I was performing with a lot then.
Songs: Sacred Flame, Light, Wake Me Up, Bird Of Prey, Same Boat, Right Here, Door, Adobe Ruin, San Luis, Heaven On Earth, Little While, Dream
Cover Art by Tracy Turner Sheppard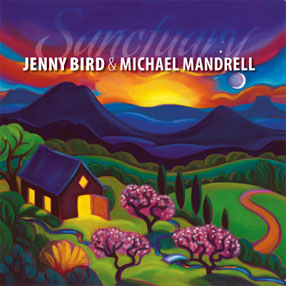 Sanctuary Track
Sanctuary (2006) was recorded the Michael Mandrell and I were touring for a decade together, and everyone wanted a CD with both of our music on it. No longer in print as a CD, but my songs are on the Goddess compilation USB.
Songs: Sanctuary, Montuno, Hold Up Each Other, Banish Misfortune, Place, Soliloquy, St. Teresa, Emerging World, Blessed, Hina, Metta Divine ONE
Cover Art by Tracy Turner Sheppard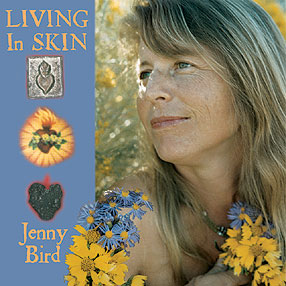 Living In Skin Track
Living in Skin (2003), was recorded Live in the studio during a rain storm, with a lovely audience.
Songs: Summer Reverie, Bring Me, Crow, State Of Grace, Surrender, Space, All Is Well, Spring Snow, Beaten Path, Just One, Living In Skin, She's All Right, Lay Down Your Burden, Goddess, America
Photograph by Saskia Vanderlingen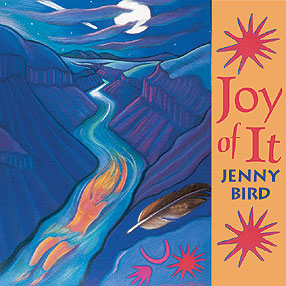 Joy Of It Track
Joy of It (2002), is another pure joy production, made complete by my dear comrades, Andy and Omar.
Songs: Only Sing, Joy Of It, Beauty Surrounds Us, Dirt, Fearless, Green Water, Awakening, Fall Away, Moving Adrienne, Best Kiss, Waiting, Other Side Of Bliss
Cover Art by Tracy Turner Sheppard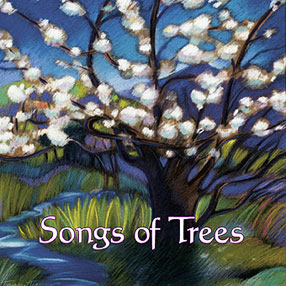 Bristlecone Track
Songs of Trees (1999), is a compilation, by various artists, of all love songs for Trees, because I love trees.
Songs: Oak, Ash and Thorn, Redwood, Sacred Tree, Bristlecone Pine, Tree Of Life, Maple, Holy Tree, Rowan Tree, Arbolitos, Tree Of Life, Bonnie Portmore
Cover Art by Tracy Turner Sheppard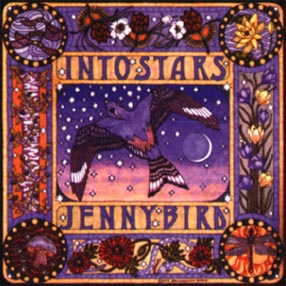 Into Stars Track
Into Stars (1998), produced by Peter Gabriel's drummer, Jerry Marotta, was the first recording using a Pueblo drum kit. Trey Gunn, Tony Levin, Harvey Jones. What a band! Mixed at the famed Dreamland Studios in New York. and mastered at Sony.
Songs: Change Your Mind, Steam, None To Find, Body Blessing, Dreamworld, I Know Nothing, Dive Deep, Not A Saint Yet, Emotional, Hide and Seek, Into Stars, After The Storm

Goddess Track
Angels Gift (1996) had a cricket in the studio that you can hear in the background if you listen carefully. Pure fun in this recording. No longer in print on CD, but included in the Goddess USB compilation.
Songs: Goddess, Moon Daughters, Mirrors, Whole and Healed, Falling, Suzanne, Permian Sea, Soul Family, Opening Windows, Something To Do, Amazing Grace (with Eliza Gilkyson), Aramaic Lord's Prayer, Ave Maria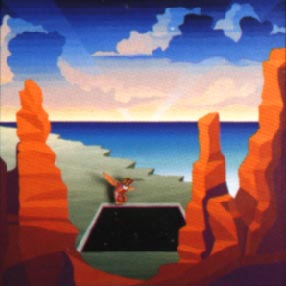 Eternal Flight Track
Eternal Flight (1994) took 3 years to make. We recorded at Eliza Gilkyson's studio, and had blues virtuoso Rory Block join us, and Mike Hearne, and Eric Avinger. Some of my favorite musical moments are captured here.
Songs: Nighthawk, Dare You, Love Yourself, Eternal Flight, Rocks and Trees, Quiet, Enough, Real World, Oneness, Listen With Me, Awake, Thirsty Souls, Push Me/Pull You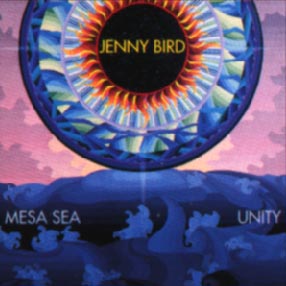 Mesa Sea Track
Mesa Sea (1986) was my dream come true, to make a recording of all of my first collection of songs, Produced with my partner, guitarist extraordinaire, Greg Martin at Moondance studio. We fell in love while making this record and you can really feel it in the music
Unity 1990 is a live recording made in my living room. I put my first two recordings together, so you could hear the produced music of Mesa Sea, and the raw live sounds of Unity on one CD.
Songs: Turn Up Your Heart, Walking Each Other Home, Love, Serve, Remember, Small Things, Holy, Whole Heart, I'll Meet You There, As It Is, Same Breath, Interspiritual Chant
To Order by Mail:
$20 for compact disc (subject to availability).
Make check or money order payable to Jenny Bird.
Indicate desired selections and a MAILING address and send with payment to:
Jenny Bird
PO Box 1730
Taos, NM 87571