Falling & Flying Song Track
From Jenny"s Latest Release (2022)
Jenny Bird's Latest Release 2022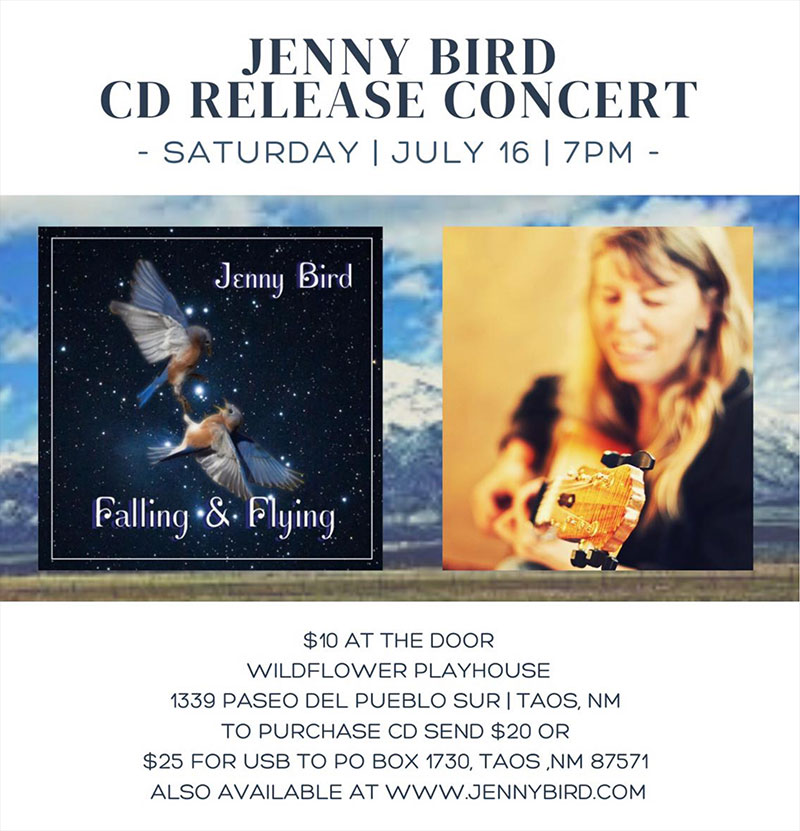 Listen Now!
Three full samples below: 
Jenny's newest release.
Full CD @ $20.00 + tax and shipping.
Songs:
Rebound
Ancestors Calling
Humble & Awake
Falling & Flying
Pleiades
Holy Now
Thrive
Tough Love
Thirsty Earth
Happy Day
ABOUT JENNY
Jenny Bird has been called "the most passionate performer in the new folk genre."
The stage is her second home where she's been presenting her original songs since the age of ten. Professionally managed as a teenager, Jenny lived and recorded in Germany and Belgium. For the last 20 years, she's toured widely and consistently, playing festivals and clubs across Europe, Canada, and the United States. She is well respected in her home town of Taos, New Mexico where she records and teaches music.
Acclaim
"Jenny Bird is a versatile musician with a knockout voice, and she uses every centimeter of her extensive range" — Victory Review
"These are great songs" — Pete Seeger
"Spine chilling in her power. Jenny sings her marvelously penned songs with passion and sensitivity" — Heartsong Review
"Bird's melodies are always strong, the lyrics heartfelt, passionate and affirmative"
— Dirty Linen
"It's all about the songs and Bird's songs are brilliant"
— Duke Egbert, Top 10 Independent CD of the Year, Daily Vault Review
"An Amazing, Powerful Performer" — The Austin Chronicle
"Bird's music is magical" — New Lifestyles Magazine
"The most passionate performer in the new folk genre"